OUR FIRST EVER DEVON'S KITCHEN IS NOW OPEN!
We are thrilled to announce that we have opened our first Devon's Kitchen cafe and takeaway service!
Located at 114 High Street, Bentley, Doncaster DN5 0AT, the Kitchen provides a real authentic taste of Jamaica. We offer a take-away service and have seating if you wish to eat with us! We are so appreciative of all the wonderful feedback and reviews we have been receiving and we hope you love our food as much as we love serving it!
[ngg_images source="galleries" container_ids="3″ display_type="photocrati-nextgen_basic_thumbnails" override_thumbnail_settings="0″ thumbnail_width="240″ thumbnail_height="160″ thumbnail_crop="1″ images_per_page="8″ number_of_columns="0″ ajax_pagination="0″ show_all_in_lightbox="0″ use_imagebrowser_effect="0″ show_slideshow_link="0″ slideshow_link_text="[Show slideshow]" order_by="sortorder" order_direction="ASC" returns="included" maximum_entity_count="500″]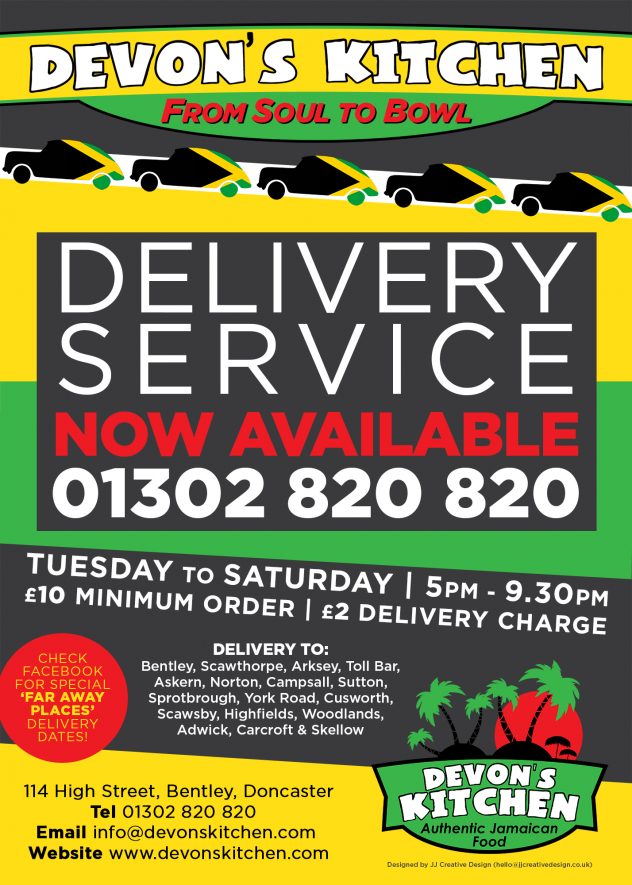 A selection of our fantastic Facebook reviews!
Very impressed. Will definitely go again

Peter Green


12/06/2017

Words can't describe the succulent tastes of Jamaica on my lips right now, can still feel it in my stomach now just giving my body pure posative vibes. Lovely staff got forced some curry goat down my mouth and I nearly chewed her arm of for another portion. Would give 6 stars if I could��

Lewis Chesters


11/30/2017

I've just been here for jerk chicken and oxtail for my daughter and a chicken Pattie The food is amazing homemade patties were to die for 100% will be a regular customer Very welcoming as well Keep up the good work guys

Looby Lou


11/25/2017

Just ordered 2 curry goat. Proper lush very nice. X

Tini Oxb


11/25/2017

I had Curry goat, rice and peas, salad with a callalloo side and a salt fish patty. It was tasty, little spicy, fresh and great value. So glad you guys are so close. Highly recommended.

David Michael Dibb


11/28/2017

Just had jerk wrap, hot chicken wings, Rasta pasta salad, & sweet potato fries Gorgeous food, will be back for more

Ady Casswell


11/25/2017

Chicken curry and a jerk chicken panini demolished by me n my daughter on your opening day , fantastic food and friendly staff

Tony Riley


11/25/2017

Amazing smell, service and taste! Will defo be back! Thank you �

Stephen Atkin


12/06/2017

The jerk chicken is beautiful � such tasty, healthy comfort food! Highly recommend �

Molly Gallagher


12/19/2017

Great food my hubby (kev, butcher) just got me goat curry it was beautiful, great flavours and the meat was really tender, will be sampleing more meals soon, wishing you well in your business

Jeanette Dobson


11/25/2017